QuickSource pricing, free trial, and more
Written by Hunter Meek on October 19, 2021
QuickSource has officially launched!
We're excited to announce that QuickSource is now available (free for a limited time) to all our U.S. based appraisers. It's the culmination of thousands of hours of discussions with appraisers, as well as continuous product development and improvement over the past year. Now, with it officially in the hands of all our users, the additional feedback will continue to make the product better.
QuickSource's positive impact on your workflow is vast. While many appraisers might focus first on the ability to import data directly to your report, the biggest win might be the ability to vet multiple data sources against each another in one screen. Why is that important? Many appraisers don't fully trust the data available to them (Public Records, MLS, even their peers). So what better way to feel more confident in the data you ultimately put in your report than to compare it side by side? Not only does it save you time during your report, but it also drastically cuts down revision requests by highlighting and helping you take care of data discrepancies.
See how Robert Hinton says QuickSource has reduced the stipulations coming back from his clients:
Free through the end of 2021
Your free time with QuickSource runs through the end of 2021. We wanted everyone to have plenty of time to get a feel for what it can do, and how to use it to improve your workflow.
How to get started
Turn on the toggle in the upper right corner of TOTAL, then click "enable".
In your Side-by-Side PowerView, click the QuickSource icon to launch QuickSource.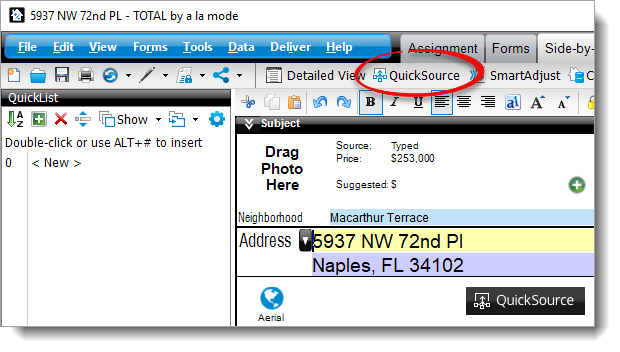 Abundant help and training resources are available
QuickSource is a very powerful tool, and learning anything new can seem overwhelming. But fear not – you have tons of help at your fingertips to get up to speed and immediately start reaping the benefits.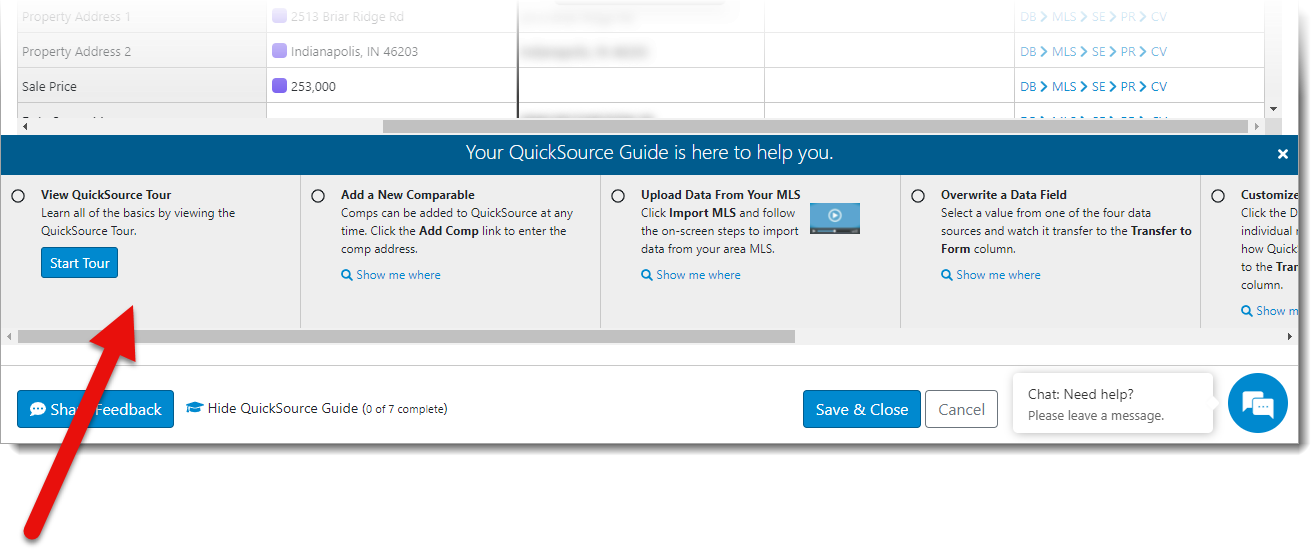 In-product guide – At the bottom of the QuickSource window, this guide will show you how to complete the most important steps to get started.
Live chat – Have a quick question? Click the chat bubble in the bottom right corner and be connected to a live in-house support rep for quick answers without even leaving the product.
User's Guide – Follow this step-by-step guide complete with images to walk you through each piece of the product.
Live training classes – Join Joel Baker for free live training on how to get the most out of QuickSource, from introduction classes to specific topics such as importing your MLS data. Don't be afraid to ask questions!
Product walkthrough video – Watch this recorded round trip to get a feel for the beginning-to-end flow of using QuickSource in a report.
More resources – Browse help.alamode.com/quicksource to find many more helpful docs, videos, and support.
Is my MLS integrated?
QuickSource can import data from any MLS. We have MLS integrations for most appraisers in the U.S. and we continue adding more every day. You can see if your MLS is already integrated, or request help getting it added at alamode.com/mls-coverage.
Fair and competitive pricing based on appraiser feedback
QuickSource is $599/year per user and includes unlimited SmartExchange usage. We polled appraisers after live demos of the product to get feedback on what they'd expect to pay for what they saw, and took the feedback into consideration when deciding on price. You'll find it very competitive with similar solutions.
Customers can sign up for a special discount at www.alamode.com/quicksource during the launch period.
What appraisers are saying…
Put QuickSource to the test!
The best way to see how QuickSource improves your work is to put it to the test during the free period. Make sure to give it a fair shot! You can always click the toggle in the top right corner if you need to turn it off temporarily to finish a report the way you're used to. We're providing such an extended free trial because we know adjusting your workflow can take a little time, but we know that in the long run, it's more than worth it. Don't forget – we're always here to help.
Learn more at www.alamode.com/quicksource
Or, see it in action in a live QuickSource training class!