2020 Year in Review
Written by Hunter Meek on December 22, 2020
It's easy to look back at this year and instantly focus on the negatives. But I think we've all had more than enough of that. So, let's recap some of the positive things appraisers were able to accomplish this year, helpful new innovations, and an exciting preview of what's on the horizon for 2021.
1. You stayed busy
One of the biggest positives for most appraisers was that you stayed busy. All things considered, the housing market might have been the best-performing sector of the U.S. economy in 2020. Despite some difficult periods due to shutdowns, interest rates remained low, and refinances, housing starts, and new home sales continued their year-over-year growth.
"I've seen an increase in volume and fees, and will be doing more appraisals in the near future. It's not even a question as to which appraisal system is the best. It's a la mode, hands down." – Mike Toback, Professional Appraisal Inc.
2. You adapted and overcame
Another highlight was your ability to quickly adapt in the face of challenges. When the GSEs outlined temporary flexibilities, we quickly developed a free tool for appraisers called PropertyAssist® that allows you to safely gather data remotely with help from the homeowner. You jumped right into it and continued working while staying safe.
"We appreciate the expanding suite of valuable new products that save time, plus the awesome tech support." – Bill Flemister, Homeowner Appraisal Services
3. You learned ways to improve your workflow
Thousands of you joined our free live training webinars to learn how to speed up your workflow and get the most out of your tools. You also booked more than 2,400 one-on-one coaching sessions with our Elite Product Coaches to laser-focus on specific skills. Way to go!
"I had lots of good one-on-one coaching sessions. They're always on time, friendly, and teach me another piece of the software. That kind of training is really handy." Greg Heinen, Heinen Residential Appraisals
4. You took advantage of new time-saving features
When we recently released a new Public Records feature in TOTAL, you instantly put it to use, generating more than 164,000 exports in the first 60 days after release. That added up to about 13,660 hours of data entry saved!
"The data matched perfectly. I'm literally sitting here stunned because you just saved me like 20 minutes of typing!" Andrew Easley, Easley Appraisals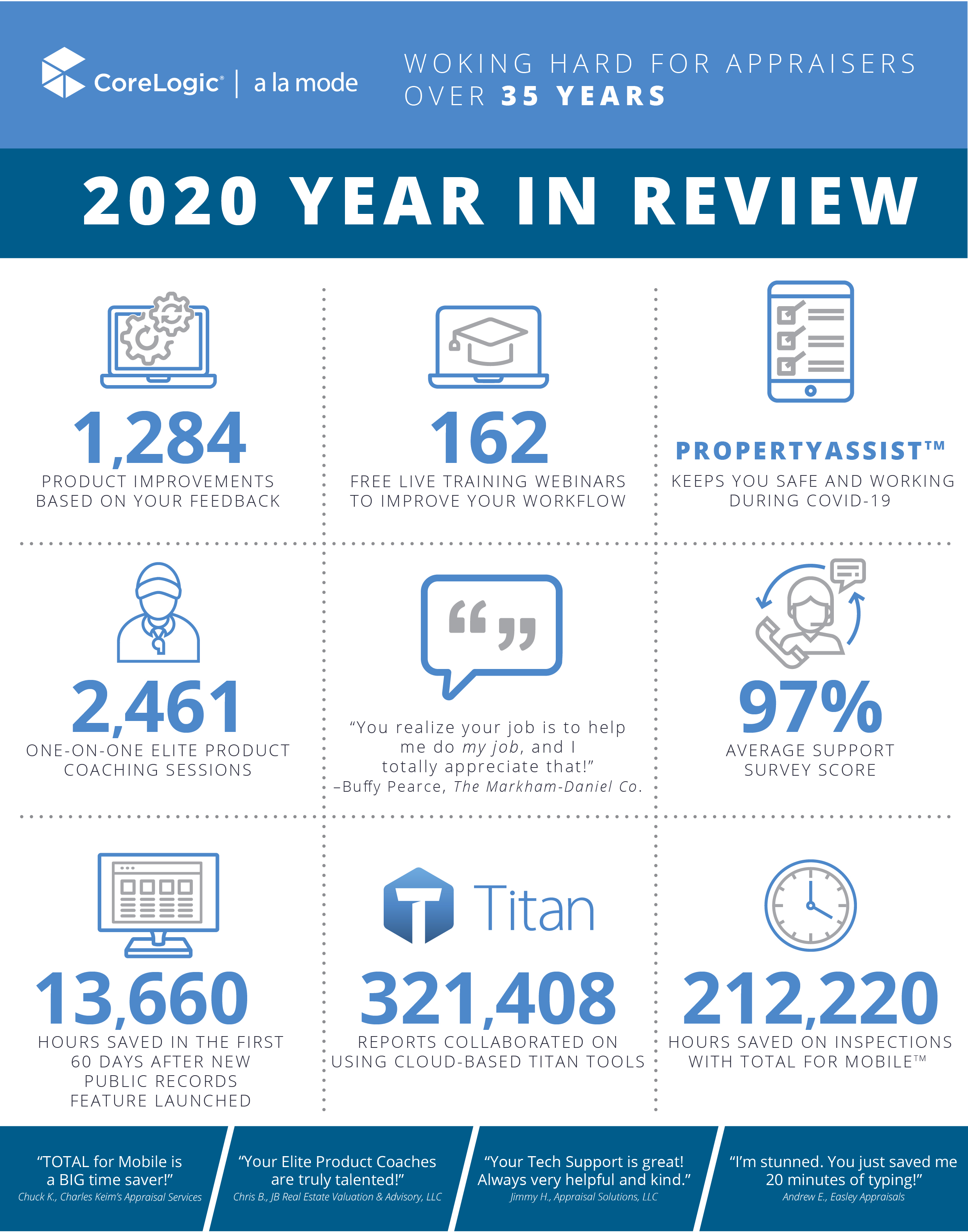 With 2020 in the rear-view, we hope you're excited for a new year. All signs point to appraisers staying busy, and we're ready to help with lots of new time-saving features and products. Some you know about, and some you don't…yet. If you haven't checked out the new Public Records feature in TOTAL, learn more about it here. And keep an eye out for more exciting new features.
Thank you for being an a la mode customer!